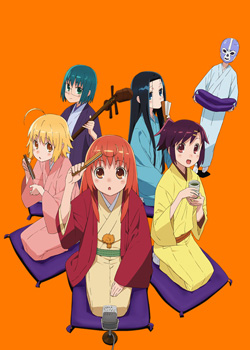 Joshiraku, abbreviation of joshi rakugo (女子落語, "girls rakugo"), is a satirical comedy manga that follows the everyday life of a group of rakugoka girls. A group of girls discuss random things and usually reach an unusual or humorous conclusion that's far from the initial discussion topic.
-Rated PG-13
Information
Edit

Joshiraku is one of 2012's Summer Series. Now Concluded TV series with the first episode having aired on Friday July 5th, 2012 to February 8, 2013. It's a comedy, slice of life anime with a duration of approximately 24minutes per episode.
Japanese Staff
Edit
-Producers
Edit
Yuji Matsukura (J.C. Staff), Junnosuke Miyamoto (Starchild Records), Hiro Maruyama (MBS/Mainichi Broadcasting), Kensuke Tateishi (Kodansha)
-Director
Edit
Tsutomu Mizushima
-Series Composition
Edit
Michiko Yokote
-Storyboard
Edit
Masami Shimoda (OP)
Tsutomu Mizushima (ED; ep 1)
Yoshitaka Koyama (ep 2)
Masaru Yokoyama
-Original creator
Edit
Kôji Kumeta (story)
Yasu (art)
-Character Design
Edit
Masayoshi Tanaka
-Sound Director
Edit
Yoshikazu Iwanami
Opening/Ending Songs
Edit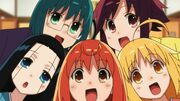 The opening song. Sung by; Goku-Rakujokai (極落女会, Ayane Sakura, Kotori Koiwai, Nozomi Yamamoto, Yoshino Nanjō and Saori Gotō)
[YouTube URL]
The ending song, sung by Momoiro Clover Z.